Hari ini situs komunitas hacker
YogyaCarderLink
kena deface. Hacker yang mengatasnamakan dirinya dari tim 711 Elite Team tersebut meretas dua domain milik YCL yaitu
ycl.sch.id
dan
yogyacarderlink.web.id
.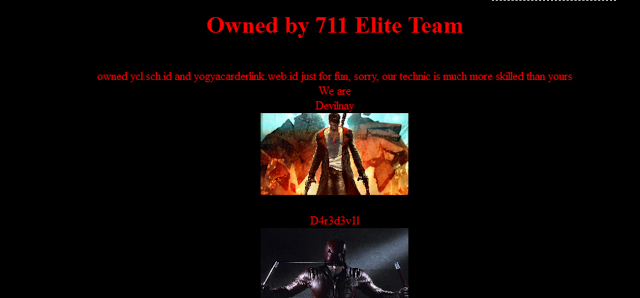 Hacker yang berjumlah 3 orang ( Devilnay – D4r3d3v1l – Ares TheHopeBuster ) tersebut meninggalkan pesan yang berbunyi :
Owned by 711 Elite Team
owned ycl.sch.id and yogyacarderlink.web.id just for fun, sorry, our technic is much more skilled than your ares would like t0 s4y: h4ppy b1rthd4y v3n0m 
ups but u g0t 0wn3d by 4r3s, 
thanks to: aurel666 and bluekid
special fvck t0 kongsi ng3p3t tr0ll3r (you th1nk you're l33t by tr0lling ? fvck rndc) – ph34r us dude ph3r us
jck.mrshl ph34r us dude ph34r us ! trust me ! you will never be able to burn ev1l instead you will got killed
l0l y0u th1nk n0 1 kn0w y0u? w3 4r3 w4tch1ng y0u
Dari pesan yang ditinggalkan mereka sepertinya ingin menyampaikan selamat ulang tahun kepada v3n0m yang merupakan petinggi di YCL. Namun ada juga yang bilang kalo si D4r3d3v1l emang punya akses ke domain ycl.sch.id sih.
Di script deface nya mereka juga mengecam habis habisan para penulis Kongsi Ngepet. Seperti yang kita tau bersama, Kongsi Ngepet adalah blog atau komunitas yang isinya tentang trolling namun khusus membahas topik hacker.