Selamat pagi sobat, kali ini saya akan share salah satu tools SQL Injection yang paling populer, apalagi kalo bukan havij 😀
Mungkin sudah banyak yang punya karena ini termasuk tools lama. namun baru sempat saya share karena bingung mau posting apa. :3 . Oke langsung saja ini screenshoot nya :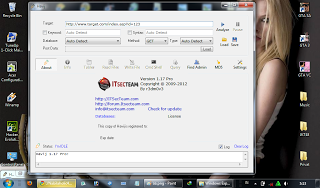 Berikut yang diupdate dari versi sebelumnya :
What's New?
———–
-Multithreading
-Oracle Blind injection method.
-Automatic all parameter scan added.
-New blind injection method (no more ? char.)
-Retry for blind injection.
-A new method for tables/columns extraction in mssql blind.
-A WAF bypass method for mysql blind.
-Getting tables and columns even when can not get current database.
-Auto save log.
-bugfix: url encode bug fixed.
-bugfix: trying time based methods when mssql error based and union based fail.
-bugfix: clicking get columns whould delete all tables.
-bugfix: reseting time based method delay when applying settings.
-bugfix: utf-8 and unicode encoding
ini Link Downloadnya :
Download Havij Pro 1.17 Cracked
Cara install nya :
Install Havij Pro 1.17
Letakkan Loader.exe di direktori dimana havij Terinstall : C:Program FilesITSecTeamHavij Pro
Lalu buka loader.exe ( run as administrator bila diperlukan )
Lalu klik register (tanpa mengisi apa apa di serial number dan load file)
Maka Havij 1.17 siap digunakan. 🙂
Sekian postingan kali ini, semoga bermanfaat.